---
Boats built by David Piper for Inland Marine Leisure (IML)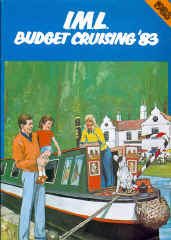 Inland Marine Leisure

was a high class hire firm which operated from the 1970s from Bank Newton on the Leeds and Liverpool canal and Worsley on the Bridgewater canal. The firm aimed to provide a quality product: "Our boats are more akin to floating luxury hotels." Their 1980 brochure states:
Whilst the interior layout and final finishing touches outside are of our own design and manufacture, the basic steelwork and marine engineering is undertaken for us by David Piper (Boatbuilders) of Church Lawton near Stoke on Trent.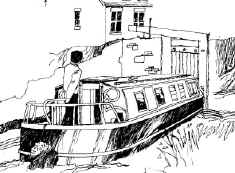 Dorothy Piper's business records confirm that Foxdale and two further cruisers were built in the same year. Piper expertise is confirmed by an additional comment:
We gain the experience of a full-time professional builder who specialises in traditional narrow boats and who is recognised as one of the country's top narrow boat builders... Since we are also the boatbuilder's largest customer and we do not make profits on fitting our own boats, we are in a position to give better value for money to our hirers than many of our competitors.
The list of boats available for hire in 1980 was as follows:
LINTON CLASS - 31feet
Crossdale - built 1973 (Worsley)
Farndale - built 1974 (Worsley)
HETTON CLASS - 43 feet
Griesdale - built 1976 (Worsley)
Ryedale - built 1977 (Worsley)
Kirkdale -built 1977 (Worsley)
Swandale - built 1978 (Worsley)
Lonsdale - built 1978 (Bank Newton)
Coverdale - built 1978 (Bank Newton)

BARDEN CLASS - 45 feet

Mallowdale - built 1974 (Worsley)
Arkendale - built 1975 (Bank Newton)
Westerdale - built 1976 (Worsley)

MARTON CLASS - 56 feet
Dovedale - built 1978 (Bank Newton)
Barrondale - built 1979 (Worsley)
Mossdale - built 1979 (Bank Newton)
Windale - built 1980 (Bank Newton)

FLASBY CLASS - 59 feet
Ennerdale - built 1976 (Worsley)
Deedale - built 1978 (Worsley)
Dentdale - built 1979 (Bank Newton)
Foxdale - built 1980 (Bank Newton)
The Barden Class was described as: A superb class of boat for up to six people. Ideal for 2 family cruising. Its specification was as follows:
INTERIOR WOODWORK: Teak veneer (pine ceiling) melamine in galley, etc.
TYPE OF DINETTE: Raised to give eye level view through windows when seated.
SHOWER: Standard domestic shower fitted.
WATER HEATER: Multi-point automatic water heater supplying vanitory unit,
sink and shower.
TOILET: Flushing 'pump-out' type (as in modern aircraft)
COOKER: Newholme Corvette (4 rings), oven, eye-level grill)
In 1980, a Barden class boat cost £186 to hire for the first week of the season, rising to £426 for the peak weeks in August.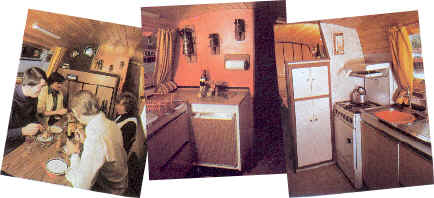 Some interior photos from IML brochure
Inland Marine Leisure was a family run firm, where the owners played an active part in the day-to-day operation. They were proud that over half of their customers had holidayed with them before, or came after recommendation by friends.
IML proprietors, Tony and Susan Binns, originally lived in the Bingley area and ran some hire boats from a temporary base above the locks. In the early seventies they moved to Bank Newton and set up their boatyard, as previously
described.
The Binns ran a good business and gave friendly and reliable service to their customers. They insisted that there should be at least three adults on each boat and
they gave a very thorough boat demonstration to their customers on arrival.
IML boats were subject to regular and thorough preventative maintenance: eg. a
'wear edge' was put on a hull before bad wear had taken place. On Friday nights,
there was a regular barbeque for customers at Bank Newton. This served two
purposes: it was friendly and fun for the customers and it also ensured that the
boats were returned on time! The business was a success because Tony and Susan
were so involved in it. (See diary account below for a trip in Dentdale)
A second base was subsequently purchased at Worsley. This was situated in 'The Old Boatyard', originally constructed by the Duke of Bridgewater for establishing and maintaining his fleet of coal carrying barges. This operation was named Cheshire Plain Cruisers. Twenty-two boats were now operating from the two bases.
| | |
| --- | --- |
| By 1983, sweeping changes had taken place. Another base had been purchased from Master Fleet at Anderton and the Worsley base had been sold. Bases had also been bought at Hillmorton and Uxbridge. With these new bases had come boats of an inferior standard to the IML boats which had been built by David Piper and the Binns. | IML Base at Anderton |
The firm now offered three standards of hireboat: Budget Cruising, Midfleet and Topline. Budget boats had flower names: Poppy, Daisy, Waterlily etc. Advertising style was designed to appeal to the family market and included a draw in which a 'Fabulous Video Recorder' might be won. Midfleet boats were aimed at the first time hirer and consisted of boats bought from Chiltern Narrowboats and Hillmorton
Narrowboats. In 1983 a Topfleet cruise for a week in an IML Barden Class (6 berth) cost £396 on 6th August. A Midfleet Class (6 berth) cost £300 and a Budgetfleet (6 berth) cost £288.
By 1991, IML had disappeared from the scene. A 1991 Alvechurch Boat Centre
brochure advertises boat hire from the Anderton Marina. Their fleet had obviously not arrived at Anderton in time for the publication of the brochure because the pictures depict IML boats moored outside the building, which is clearly marked IML Leisure Marine!
Many of the former IML boats built by David Piper as shells, are still to be seen
on the system. Most Piper shells which were built for IML had a permanent name fixed and welded on the stern. This stated ......dale, the port of registration which was Hull. and its number.
Recent photos of some former IML hire narrowboats

Coverdale on Mac canal,

Highdale at Stanley Ferry

Westerdale, now at Whixall

Some other ex IML hire boats:-

xx?dale at Rugby April 04

Windale at Braunston April 04

Is this a Dale? May 04,

Regents Canal

xx?dale on River Lee, may 04

Eskdale. Now Brenda .

Moored at Tottenham.

Awaiting a repaint. May 04

Gongoozler May 04 Residential at Tottenham Hale. Is this a Dale?

Were these boats built by David Piper?

During the summer of 2006, a long cruiser was spotted near Swarkestone on the Trent and Mersey Canal. It had some Piper characteristics which matched the style of the former IML hire boats operated by Tony and Susan Binns. The gentleman aboard this boat was a part owner who confirmed that his boat had been bought at Rugby at the demise of IML. He said that he had had the choice of two similar boats.

Wondering if this boat, The Early Go, had been built by David Piper, we photographed it and sent the picture to Dorothy. She was immediately able to see that the welding was not the work of David's boatyard. She said that when Rugby Boatbuilders became part of IML and operated boats from their base, some 'lookalike' boats had been built by them at Rugby. She supposed that this cruiser had been one of these..

A chance conversation with Michael Dowse at Heritage Marina resulted in Michael producing a 1990 brochure for IML. In this brochure boats were offered for holiday hire at Anderton and Hillmorton, the Bank Newton and Worsley bases no longer being operated by IML. 'Luxury Plus' boats were advertised as Amongst the top twenty boats available for hire on the inland waterway system.. No boat is more than four years old. Older boats of similar specification were advertised as 'Luxury' boats.

The 'Luxury Plus ' boats had a distinctive window design with small hopper opening panes, as in the picture above. These are unlike the larger hopper windows which David fitted in his classic boats. If many of these boats were no more than four years old, they must indeed have been built at Rugby. The last recorded shell delivered to IML (Yorkshire Dales cruisers) by the Pipers was Highdale in 1981. Sadly, the owner of The Early Go is not the proud possessor of a David Piper boat!

Michael Dowse said that two of his hire-boats had been bought from IML. These must have been amongst the last boats to have been built for that company and are likely to have been built at Rugby. Compare Marple with the picture left.

Marple ex Heritage Boats above

However, many of the older boats, advertised as the 'Luxury Class', were built as sailaways by David, and fitted out by IML. These boats have characteristic larger hopper windows and tillers with the typical 'David' profile. Westerdale, now proudly owned by members Val and Ron Wilcock, features prominently in the 1990 brochure.

The Early Go

Westerdale 1990 brochure

Do you have any further information? Is your Dale cruiser illustrated here?

If so, please contact
Dot is happy to answer any questions about Piper boat verifications; Dot Piper
---